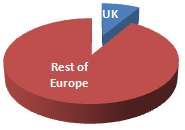 Make the whole of Europe your Home Market. That's 739 million Consumers: almost 12 Times bigger than the UK market!

Isn't it time you got your share?

We've been helping companies like yours to do just that since 1994. We offer a flexible range of packages, resources & solutions to help you secure your future and achieve your export goals.
Kick-Start your Export Drive Cost-Effectively.
We are different. Click on the links to see our resources & how we set ourselves & our Clients above the competition.
Looking for new and innovative products?
Want to start Exporting at minimal cost and risk, or worried that you don't have the skills or contacts? Click on Export Club. We put your products in front of hundreds of Europe's decision makers.
Contact us Now! Don't wait until your competitors overtake you.
© John Akin & Co 2012